Counting down to April 2019 with the new ISOJ newsletter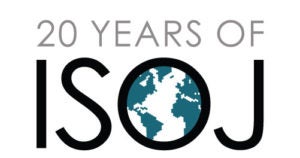 October edition of the International Symposium on Online Journalism newsletter
Hello ISOJers!
As we start our countdown to the 20th International Symposium on Online Journalism, we would like to share with you, our ISOJ friends, the news about preparations for our 20th anniversary. We are still thinking about the celebrations that will complement the "best journalism conference in the world" — as so many keep calling ISOJ — and will share more updates in upcoming newsletters.
We want to treat you this time to three items:
We have just set up agreements with two of the Austin hotels that are closest to the ISOJ venue, so you can go ahead and make your reservation, guaranteeing a discounted group rate. Remember that these hotels get full weeks before ISOJ.
We have started exploring the symposia archives and selecting some interesting highlights. This time, we will share a few observations and predictions from Peter Lewis, who was a celebrated technology columnist for The New York Times in the 1990s. Check them out below. I also want to share two anecdotes that Peter mentioned during the first ISOJ. First, he said that in the 1980s, The New York Times gathered its journalists for a brainstorm about the newspaper's future. He went to the meeting carrying a Macintosh personal computer — to make a point that the Times should be prepared to be online — and he said people thought the idea was crazy. Second, he shared an anecdote about a surprising encounter he had with a New York Times editor at Microsoft in Seattle, where he was doing interviews. Peter asked the editor what he was doing there, and the response was something like, "looking at where we're going to be working about five years from now."
The third item below touches my heart in a very special way. In 2005, I introduced the academic research component of ISOJ for the first time. Until then, the conference had only professional journalism-focused panels. I added a second day to the conference and scheduled it specifically for the academic researchers. I was surprised and thrilled when both Len Apcar, the editor of NYTimes.com, and Jim Brady, the editor of WashingtonPost.com, decided to stay for the second day, paid close attention to the research presented, and challenged the researchers to cover a few issues that were relevant to the industry. But the other surprise that year was the presence of a couple of young BBC journalists. One of them was Alfred Hermida, who tells us in the video below how important ISOJ was in his decision to move from the newsroom in London to the classroom in Vancouver, where he has developed a brilliant career as a professor and researcher on online journalism.
I hope you enjoy this newsletter, which is put together by the Knight Center for Journalism in the Americas' assistant director Mallary Tenore.
Please send us your feedback and get ready for ISOJ 2019!
Cheers,
Rosental Alves, founder and director of ISOJ
1. Hotel room blocks now available for ISOJ 2019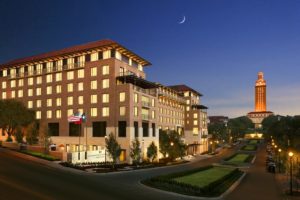 We hope you've marked your calendars for the 20th anniversary of the International Symposium on Online Journalism (ISOJ), which will take place from April 12-13, 2019 at the Blanton Museum of Art on the University of Texas at Austin's campus.

For those of you who will be traveling from afar, we have reserved a limited number of discounted group rates at two local hotels: the DoubleTree Suites Hotel and the AT&T Inn and Conference Center (pictured above). You can find more information about these hotels and other nearby hotels — along with transportation and parking details — on isoj.org.
2. A look back at the first ISOJ
In recognition of our 20th anniversary, we're digging into the ISOJ archives, which offer up a detailed look at the evolution of online journalism throughout the past two decades.
During the first ISOJ in 1999, we explored whether the search for money was threatening editorial integrity, and how traditional newsrooms were reacting to online journalism. These topics and the conversations they sparked show how much has changed — and, in some cases, how much has remained the same. With that in mind, here's what panelist Peter Lewis, a former New York Times columnist, had to say when discussing the future of online journalism:


"Newspapers exist in this future, but they are a precious commodity to the elite classes. Only the people who can afford to buy paper and get it physically delivered to their house are going to get it. Everybody else gets their feeds online. I think that there is some truth to that. Papers will continue to exist, but they will be specialty items…



"What is happening with people, the consumers, their attention spans are getting shorter, at least mine is. There are so many choices; I can go here, there, there, there. Journalism is going to have to adapt to that. We are going to have to figure out how to offer a lot of information to a lot of people and that means coming up with alliances. The New York Times will probably have to align itself with a major TV network with perhaps radio stations, perhaps with others, and combine those

feeds into some sort of a new media. This is an 'interim medium.' What we are seeing now is just the tip of it.



"Has online journalism come of age? I guess my standard response for that is, I will know it has when Wired declares that their print publication is worthless and that they would have to go completely digital since they have been forecasting the demise of printed publications. But their greatest success still seems to be in the print world… [Online journalism] is

just now starting. In fact, I would argue that we are not even out of the starting gate yet."
Interestingly, Wired's editor-in-chief Nick Thompson was recently interviewed about why he thinks the print edition of Wired — which reaches 800,000 readers monthly — continues to be important. Meanwhile, just this week, New York Times publisher A.G. Sulzberger said: "We are moving as fast as we can to get to a future in which we don't need to rely on that newspaper at all. The time will come when this is a digital-only news organization."

3. ISOJ 'changed my life'
At last month's Online News Association conference, we caught up with some former ISOJ speakers and attendees who shared their reflections on the 20th anniversary of ISOJ and the impact the conference has had on them. Here's what Alfred Hermida, an associate professor at the University of British Columbia, had to say…
Stay tuned
In the coming months, we'll share updates about registration, ISOJ speakers, the program, etc. via this monthly newsletter, isoj.org, and our ISOJ Facebook and Twitter accounts. If you have any questions, please feel free to email us at knightcenter@austin.utexas.edu. We hope to see you in Austin in April!